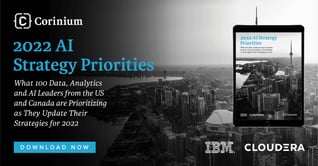 What 100 Data, Analytics and AI Leaders from the US and Canada are Prioritizing as They Update Their Strategies for 2022.
This representative survey of 100 data and analytics executives based in the US and Canada shines a light on the maturity of data and AI functions in the US following the pandemic's disruption and reveals the top AI strategy priorities for data-focused executives as we move into 2022.
Our research focuses on three core areas to benchmark where these executives will be focusing their investments over the next 12-24 months: 1) AI in the modern enterprise, 2) the information infrastructure investments they are making to achieve their AI goals and 3) how they are driving the adoption of AI systems and their integration into business processes.
Download your copy of the full research today to find out more!
Contributors include:
Maryam Ashoori PhD, Director, Product Management, IBM
Glenn Hofmann PhD, Chief Analytics Officer, New York Life
Bryan Lari, Executive Director, Analytics and Innovation, Stamford Health
Sean MacCarthy, Executive Director, Global Analytics and Store Segmentation, Claire's
Paul Pallath PhD, Global Technology Head of Data, Analytics and AI, Levi Strauss & Co
Vijay Venkatesan, Chief Analytics Officer, Horizon Blue Cross Blue Shield of New Jersey
Bharti Rai, VP and Head, Commercial Acceleration (Data, Insights and Analytics, Commercial Operations), Novartis Pharmaceuticals US